Bequests and other Planned Gifts
Public broadcasting fills a void in that it offers great family programming in order to deepen curiosity and encourage further exploration and personal growth. The following pages will offer ideas as to how you can be a part, truly a partner, in the shaping, developing and encouragement of that type of broadcasting content through your gifts and support of WFSU. Your rewards will be more than quality programming and more than the tax savings that are a result of your gift. You will also experience the personal and emotional rewards of helping to insure the future of quality public broadcasting.
RECENT NEWS! Congress has passed a new law extending the IRA charitable rollover. For more information, click here.
There are as many different ways to support WFSU as there are needs for your support. Planning a gift is more than just finding a need. There are a lot of factors to consider.
If planned giving is a new thought, you might want to take a moment to consider some of the factors. Another reference tool for your use is our chart briefly describing some of the charitable means that are available to you - see How Can I...?
The following stories share some of the different ways people can become partners with us in providing quality programming. Take a moment to see how people - perhaps in circumstances similar to yours - have found ways to support causes that are important to them - the way WFSU is important to you. Just click on the links below.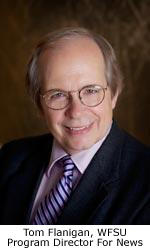 Legal Name:
Florida State University Foundation
Tax ID Number:
59-6152180
If you have already included WFSU in your estate plans, please let us know by calling us or filling out our estate intention form. We would enjoy the opportunity to thank you and would like to make sure your intentions are carried out properly. If you have not written a will yet, regardless of your charitable intent, please consider this.
As there are different methods to utilize in planned giving, your personal circumstances will determine what is the best structure for you to support WFSU. We will be glad to answer questions, review your unique circumstances and offer suggestions confidentially. Please call or e-mail us (see contact page). Also, you may use our request for information form.
The following button will open a new browser window allowing you to read about news and information as it relates to planned giving as well as links for daily financial news. To return to these pages, please close the new browser window.
| | | |
| --- | --- | --- |
| | | Join our e-mail news and information list and receive quarterly e-mails of news relating to planned giving. Just enter your e-mail address and name here and press go. Your email will not be shared (see privacy). |
The site map lets you navigate to any page within Planned Giving. Should you have any concerns regarding the privacy of information you might furnish us, please visit our privacy statement page.
Now click here to meet Pam Adams. Or click on the gift option you would like to visit for more information.
Please note that we use pop-up windows for some of our links to provide a printable page. If you have pop-ups blocked, holding down the CTRL key (or sometimes the SHIFT key) while clicking on these linkswill often allow the pages to open without having to disable pop-up blocking on your computer.
Important note, individual financial circumstances will vary. The information on this site does not constitute legal or tax advice. Donor stories and photographs are for purposes of illustration only. As with all tax and estate planning, please consult your attorney or estate specialist. All material is copyrighted and is for viewing purposes only. Use of this site signifies your agreement with the terms of use. The content in this Planned Giving section has been developed for WFSU by Future Focus. Please report any problems to section webmaster.